In the field of contract logistics, we offer a combination of standard cost-efficient logistics services supplemented with applications that arise from the individual wishes of the customer.
Increase performance
We work every day to be able to offer the best possible warehouse solutions, in order to increase efficiency, performance and flexibility based on this objective.
Pallet buffer truck
For many years, a conveyor belt has been operating 24/7 at our locations to regulate the entry of incoming pallets directly from a nearby production location.
In addition, we recently invested in a fully automated inbound pallet buffering and sorting solution for another customer in one of our new-build warehouses. The production stock can be collected using this solution, which has enabled us to scale down the number of shifts.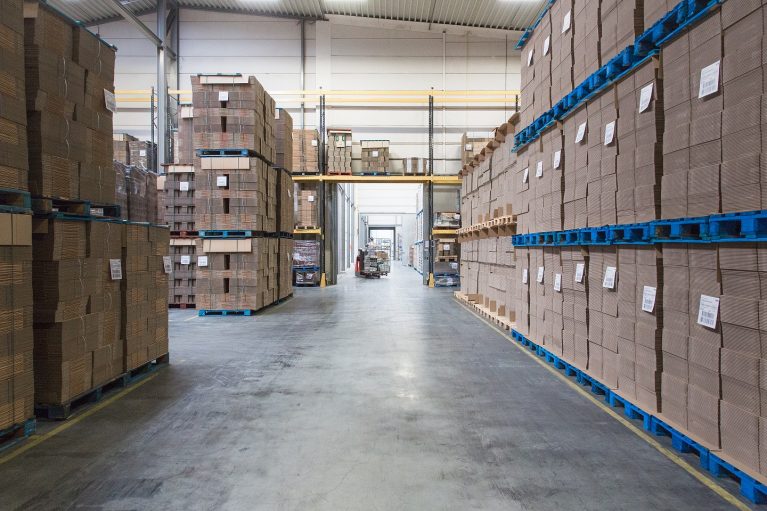 From pallet picking to pick & pack process
Thanks to our diversity of warehouses, we can take care of all your storage needs in the short and long term. From our Dutch and Polish warehouse locations, we are able to meet all your needs. Whether it concerns a large volume full pallet operation, package picking or piece pick & pack process.
Environmetally friendly
Sustainability is of great importance to Axell Logistics and its customers. We have installed 15,000 square meters of solar panels on the roofs of our warehouses. Our distribution fleet meets the latest environmental and noise standards in the Benelux. For example, we use eco-combos and HVO100 fuel.
Diversity
Storage in block stacking, pallet racking or picking shelves.
Branches
Storage and fulfillment of Retail, FMCG, Food & Feed or Industrial products.
Certified
ISO 9001 – 2015 and IFS Logistics 2.2 (food storage) certified.
Coaching
An in-house IT & Engineering team.